Breaking Boundaries: Airthium's High-Temperature Heat Pump Sets New Industry Standards for Sustainability
Title: Airthium's High-Temperature Heat Pump Sets New Industry Standards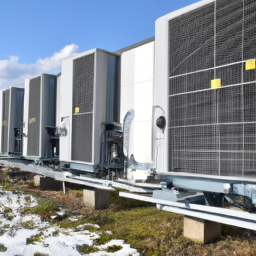 Introduction: Airthium, a forward-thinking technology company, is making headlines with its groundbreaking high-temperature heat pump. With the ability to reach 1000℉, surpassing the industry standard of 320℉, this innovative heat pump aims to offer a sustainable alternative to the use of polluting natural gas for industrial processes. The company estimates that this technology has the potential to reduce global CO2 emissions by 3% annually and create a market opportunity of over $10 billion. Partnering with McCain, the world's largest frozen potato product manufacturer, Airthium is currently developing a prototype and seeking support through crowdfunding.
Industrial Decarbonization and CO2 Emissions Reduction: The reliance of factories on natural gas for process heat has been a major contributor to worldwide CO2 emissions. Airthium's high-temperature heat pump offers a significant solution to this problem by providing an alternative, more sustainable option. The company aims to replace natural gas-fired power plants with its heat pump technology, significantly reducing greenhouse gas emissions while maintaining industrial productivity.
Revolutionizing the Heat Pump Industry: Airthium's high-temperature heat pump utilizes a novel stirling architecture, converting electricity to heat and vice versa. Unlike traditional heat pumps, Airthium's technology can achieve temperatures up to 1000℉ efficiently, enabling a wide range of industrial applications. The company's approach involves converting solar or wind energy to heat and storing it in thermal storage units such as molten salts or sand. Unused energy is also converted on-site to green ammonia, offering cost-effective energy storage for up to 30-40 hours per day. The combustion of ammonia is then utilized to generate electricity, resulting in a CO2-free process.
Overcoming Challenges and Advancing the Timeline: Airthium's journey has not been without its challenges. Raising funds for large deeptech projects has proven difficult, but the company managed to secure support from Y Combinator and Wefunder. They also encountered a corrosion issue in 2019, which they successfully resolved after months of brainstorming. Additionally, Airthium worked to fine-tune its physics algorithm, leading to the sale of the software used internally to DENSO, a major Japanese corporation. Through advancements and strategic partnerships, Airthium has shaped its technology to focus on industrial heat pumps, a sector that presents easier market accessibility.
Sustainable Packaging and the Role of Plastics: Amid the discussion of sustainability, the issue of plastic packaging arose. Airthium addresses the misconception surrounding plastics, highlighting their eco-friendly qualities such as being lightweight and functioning as a carbon sink. While there are challenges related to plastic waste management, properly handled plastic packaging can have a minimal environmental footprint when compared to alternatives like glass and paper. A thorough analysis of the pros and cons of different packaging materials, as well as education and infrastructure development, is necessary for making informed decisions.
Conclusion: Airthium's high-temperature heat pump represents a significant step forward in the effort to decarbonize industrial processes. By greatly reducing the reliance on polluting natural gas, this technology has the potential to significantly reduce CO2 emissions and create a substantial market opportunity. While challenges remain, Airthium's dedication to innovation and strategic partnerships is propelling them towards success. With the support of investors and customers, Airthium's pioneering efforts will advance the timeline for a more sustainable future.
Disclaimer: Don't take anything on this website seriously. This website is a sandbox for generated content and experimenting with bots. Content may contain errors and untruths.
Author Eliza Ng
LastMod 2023-07-06